We all love a good sweet treat, and Candy and Coco always go hand in hand, and in this scene from Tgirls.porn… Candy and Coco Dahlia not only go well together, they come together too!
Hanging out in the kitchen, redhead Coco is in a pair of jeans, heels and a very cute top; and ebony girl Candy is in a very tiny bikini, thigh highs and heels… as one does while in the kitchen. They get pretty close pretty fast and soon they are tongue wrestling with each other and the clothes start hitting the floor. Candy whips out Coco's treat from her jeans, and begins to suck on her long cylindrical confection. Candy is blowing Coco's mind with her blowing, and soon Coco wants to return the favor.
After getting a taste of each others sweetness, it is time to get down to some tasty cake. Coco bends over the counter and Candy and plunges her tool deep into her ass, the tattooed redhead bucks back against her and is enjoying every inch of pleasure. Both these girls are pretty versatile, and soon it is Candy's turn to get some Coco filling. Candy rides her cock with raw enthusiasm, and soon Coco is riding Candy till she covers her in frosting!
This scene is like a Reese's Peanut Butter Cup, because no matter if you get Coco in your Candy, or Candy in your Coco… it is pretty tasty and a pleasurable treat!
See this sexual confection and many more now on Tgirls.porn.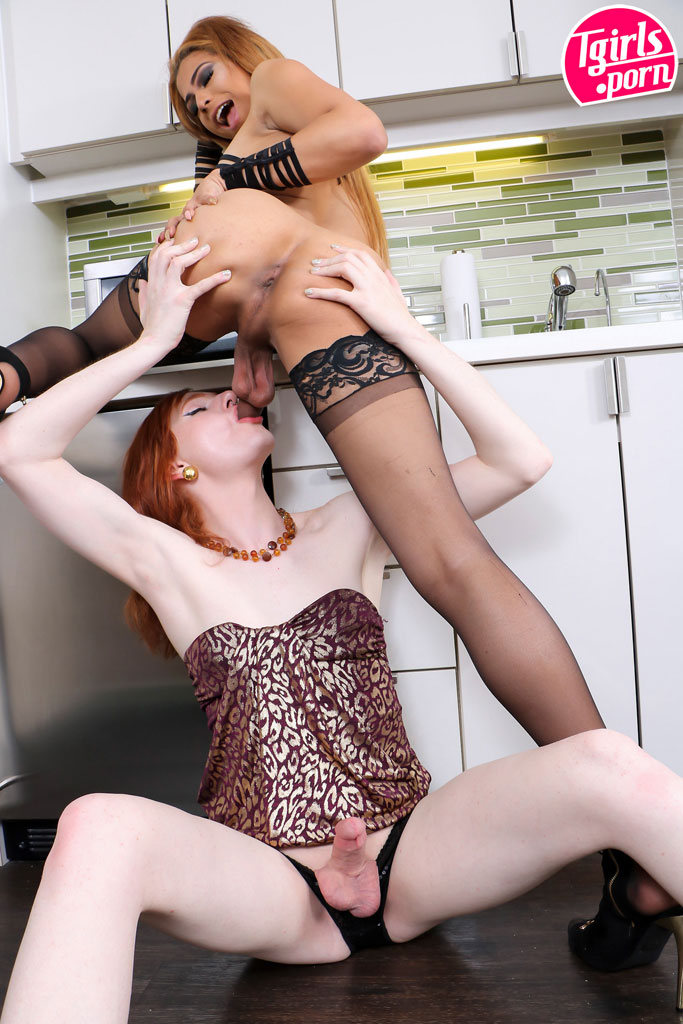 TGirls Porn Says:
A DELICIOUS SWIRL of vanilla and caramel is one way to describe today's incredible update as beautiful redhead Coco Dahlia & ebony princess Candy get wrapped up in each other for a steamy session of 'all-girl' sexy time here on TGirls.Porn! Join this rampant duo as they get balls deep and personal for Omar's big lenses – yet another five star production from the world's favourite transgirl hardcore site!