From the moment I saw it, I knew I was in love. SplitPeaches has created the most fantastic dildo ever. It's a magically beautiful rainbow unicorn horn and it comes in three sizes! SplitPeaches crafts all their toys in the USA with 100% body safe platinum cure silicone and their own special creative flair. The model featured here is an impressive 11″ long and a girthy 2.75″ at the base and it looks perfect for all your pegging needs. The medium is 8″ x 2″ and the small is a dainty 6″ x 1.5″. Personally I really like toys that gradually flair (a lot) at the base, the deeper it gets, the wider the dilation stretches, so this design is perfect. Plus, the bold soft spiral is awesome. You can get other colors, like classic unicorn pearly white or the dark horse in metallic purple and blue swirls, but the rainbow is the winner for me.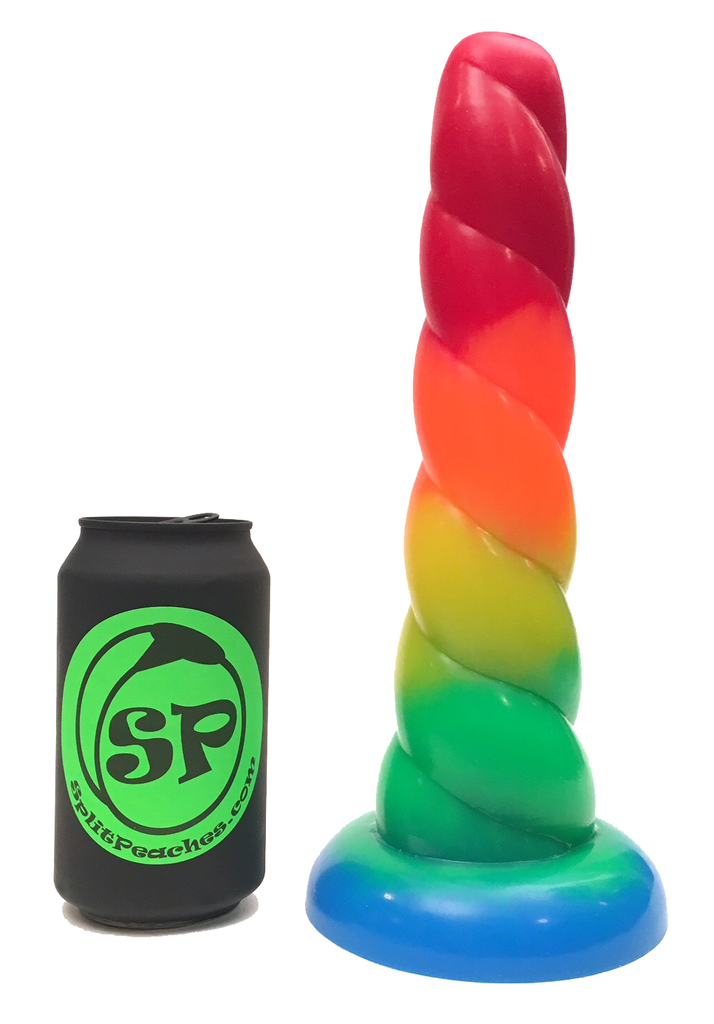 Split Peaches Toy Description:
Ever wonder what it's like to ride a Unicorn? Well, now you can 🙂
Experience the magic of riding your very own Unicorn Horn Dildo. This Unicorn Horn has all the shape and texture of the real thing *wink, and will leave you in a fantasy world all your own. Hand poured from the best silicone available, this smooth soft horn will let you experience orgasms only heard of in fairy tales. Hurry up and get one of these magical toys today before they're gone!

11″ Tall x 2.75″ Thick Shaft at base. Rainbow Colors.

Made in the Split Peaches Peach Pit Laboratory. All of our dildos are USA hand made with the highest quality body safe Platinum Silicone available.

* All Split Peaches toys are hand made and the color may vary slightly from the picture.