I came across the beautiful Cinnamon_toast_fuck tonight and was immediately charmed by her beauty. The bulk of her blonde hair is pulled back, leaving the front to frame her lovely face as it hangs down around it. Her eyes are shadowed in a smokey kind of cut crease look, with thick eyeliner wings that make the shape of her eyes really pop beautifully. Her red lips are nearly always smiling and her warmth just emanates off her and through the screen.
Cinnamon_toast_fuck is wearing a very cute and flowy floral dress with nothing underneath it, which becomes apparent as she keeps lifting it up to show us her treasures beneath and the little bunny tail butt plug, or when she pulls the top down to show us her exquisite natural breasts. You should really join this beauty in her room, because everyone loves the nutritious taste of Cinnamon_toast_fuck!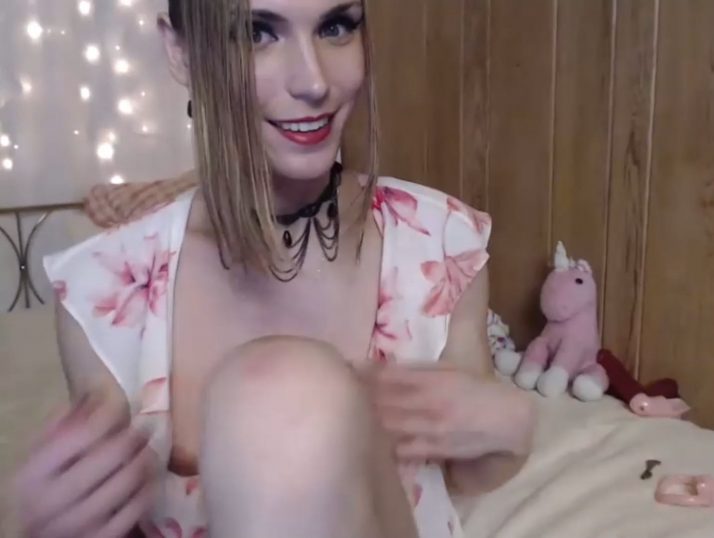 Profile:
i am a tragic faerie.
INFP Archetype.
i love music, cheesy poetry, cuddles, and sleep.
i watch mostly comedy. It's hard to take this world seriously.
i am genuinely bad at this job.
Just… fucking truly awful.
But i love doing porn! i really want to be a debauched goddess, and dive deep into the most perverse within our collective consciousness….
but i struggle under the weight of my own.
And i cant stand my reflection.
Its difficult to stay buoyant.
i encounter powerful dysphoria.
Dysphoria, Depression, Depersonalization/Disassociation.
Some people have Masters Degrees, or Doctorates.
When i have good days i cam.
So in the time i'm not on cam i try to immerse myself in work on music. Otherwise i do dumb shit like waste 2 hours writing a profile no one will read, one that elaborately scares people away, on a site where i'm supposed to inspire and generate erections.
https://cinnamon-toast-fuck.tumblr.com
https://fetlife.com/users/3404294
Follow me please? https://twitter.com/CinnamonToastFk

Wish List:
a cute girliefriend i can play music with and cuddle.
Someone who shares a strong mutual necessity for the outlet of music.
I still want Johnny Depp to dress up as edward sissorhands and perform my orchiectomy.
Some lists will appear here soon, im just not much of a materialistic person.
Guitar strings maybe? I blow through sets pretty fast.